#11 BUC SOFTBALL SETS SIGHTS ON NATIONALS IN 2020

Blinn softball returns nine players from record-setting squad
Coming off a season where the Buccaneers posted a program-best conference record and record number of players signed to four-year colleges, the No. 11 Blinn College softball team has its sight set on returning to the national tournament in 2020.
"Last year we had a quality conference season and wished we would have had a better payoff at the regional tournament," head coach Rick Church said.  "That will be our motivation this year, especially for our sophomores, to get the Buccaneers back to nationals in Utah."
Last season, the Buccaneers went 23-1 in conference for a Region XIV South Division championship, posted a 44-15 overall record and finished the season ranked 17th in the nation. However, a fourth-place finish in the Region XIV tournament left them wanting more.
Nine players return this season in pitcher Alysa Torres (Deer Park), catcher Emelyn Coussou (Beaumont), outfielder and first baseman Bailey Zibelin (New Braunfels), infielders Clarissa Hagler (Vidor) and Julissa Llanos (Eagle Lake), and outfielders Anna Pisaro (Cypress), Mackenzie Crews (Cypress), Mayela Fernandez (Cypress), and Kindle Gault (Austin).
"We have a lot of depth this season and there isn't a drop off in talent or ability on the depth chart," Church said. "We have a lot of good arms and speed, several are capable of having good at-bats and I feel really good about our roster defensively."
Torres, who posted an 11-3 record and one save in 24 appearances, is Blinn's only returning starter pitcher. She also threw six complete games and ended the year with a 4.32 earned run average in 92 1/3 innings.
Joining Torres in the circle are incoming freshman Renna Toomey (Orange), Georgia Biggs (Lousana, Alberta, Canada) and Nevada Dolnik (Richmond).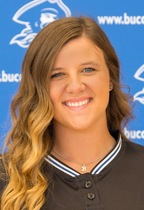 Toomey was named the district's Offensive MVP at Little Cypress-Mauriceville  and will start for the Buccaneers, Biggs has a good drop ball and is working on a changeup to offer quality pitches to the rotation and Dolnik threw well against four-year schools this fall and is expected to be a starter on the team.
"Our pitching staff brings a lot of diversity to the circle with their dominant pitches, and the speeds and locations they throw," Church said. "They offer a good mix to change up the rhythm and the plain on the hitters."
Coussou played in 10 games and posted a .935 fielding percentage behind the plate for Blinn last season. Freshmen Gabi Lopez (Cypress) will see a lot of time behind the plate and Reagan Majewski (Bellville) will join her this year at the catcher position.
Lopez is set to land the starting role, is a good student of the game and has the best transition time on catching steals, while Majewski adds depth at the position, and has good power as a hitter.
"It is great to have three quality catchers at this level," Church said.
Pisaro and Zibelin return to the outfield after earning all-conference and all-region honors in 2019. Pisaro posted a .328 batting average in 204 at-bats, was third on the team with 67 hits and second on the team with 16 stolen bases, while Zibelin was second on the team with a .388 batting average, was fifth on the team with 62 hits and third on the team with 45 RBIs.
Crews also returns at the position after hitting .306 in 111 at-bats, tallying 34 hits and scoring 26 runs. Fernandez recorded the team's fourth highest batting average with a .362 in 58 at-bats, while Gault tallied three hits and scored four runs in seven at-bats.
New to the outfield position are incoming freshmen Mikaela Lopez (Cypress), Bailee Stanzione (Seguin), Italie Speziale (Tomball) and Emily Murphy (Round Rock), who can also play first base.
Lopez mostly played centerfield this fall and has good speed, Stanzione is the fastest player on the team, a good base runner and has a lot of strength and power as a slapper, Speziale has speed and is consistent offensively and defensively and Murphy has a great lefty swing and was named the Round Rock High School Female Athlete of the Year in 2019.
"We have a lot of depth in our outfield and who plays is going to be dictated by who produces the most offensively," Church said.
Last year, Hagler recorded two runs and one hit in 11 at-bats, while Llanos recorded a .316 batting average in 38 at-bats for the Buccaneers.
Joining them in the infield this year are middle infielders Jordyn Smith (Cypress), Samantha Rodriguez (Houston) Chloe Woodward (Katy) and Marley Mahoney (Livingston), and utility player Amy Hitt (Katy).
Smith transferred from Texas State University and recorded a .275 batting average and .889 fielding percentage in 22 appearances for the Bobcats in 2019, Rodriguez earned the Silver Slugger Award and three Golden Glove awards at Summer Creek High School, Woodward is a consistent and hard-working player and Mahoney is a competitor who can produce when it is crunch time.
"We have four quality middle infielders from a defensive standpoint who all have experience with both second base and shortstop which gives us a lot of options," Church said.
Hitt can play first and third base and is one of the most consistent hitters on the team.
"I am really excited about this season because we brought in athletes who can make a difference and help our returners build off of last season's success," Church said. "We are hoping to have the kind of season that we did last year, but this time end up in Utah."
Blinn will open the 2020 season at the Chipola Invitational on Friday, Jan. 31. The Buccaneers will open the tournament against Lake Land College at 9 a.m., Odessa College at 1:30 p.m. and Snead State Community College at 6 p.m.
For more information, visit www.buccaneersports.com.
(COURTESY: Tara Dreyer, Blinn Information)