FORTNIGHTLY CLUB USED BOOK SALE RETURNING FEBRUARY 21-26
Sale extended two days by popular request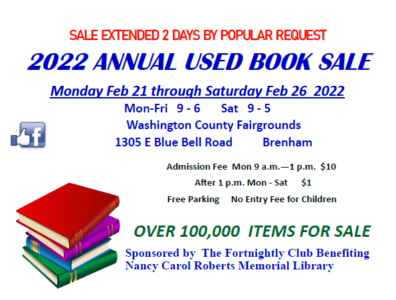 The Fortnightly Club Annual Used Book Sale will be making its return to the Washington County Expo next month.
Due to popular demand, the sale has been extended two extra days. It begins on Monday, February 21, and runs through Saturday, February 26.
The hours will be 9am-6pm Monday thru Friday and 9am-5pm on Saturday.
Over 100,000 items are going to be up for sale. Proceeds go to benefit the Nancy Carol Roberts Memorial Library.
The admission fee is $10 on Monday from 9am-1pm. After 1pm on Monday, the admission fee drops down to just $1 for the rest of the week. Children get in for free.