BRENHAM CITY COUNCIL TO HOLD PUBLIC HEARING ON REDISTRICTING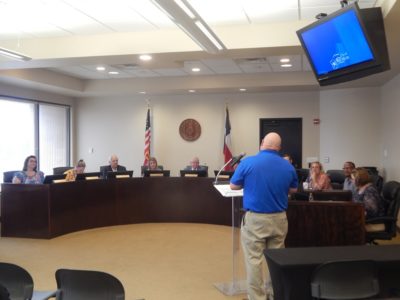 The public will have the opportunity Thursday to provide input on the City of Brenham's proposed redistricting map.
The Brenham City Council will hold a public hearing regarding draft redistricting plans and potentially adopt a final redistricting plan.
The public hearing will be used to gather feedback on the draft plan created after discussion from a special meeting on May 5th.  Two draft plans were presented at the meeting, but a third was created to attempt to align the city's wards with Washington County precinct lines.
The major changes in the proposal from the city's current ward map seek to remedy overpopulation in Ward 3, represented by Atwood Kenjura, and underpopulation in Ward 2, covered by Albert Wright.  They do so by moving homes and part of downtown to Wright's ward from Ward 1, under Shannan Canales, and taking homes from Kenjura's ward and placing them in Adonna Saunders' Ward 4.
The changes to the wards will take effect on January 1, 2023, in time for the May 2023 general election.
Also on Thursday, the council will seek to move forward with rebuilding a fuel farm at the Brenham Municipal Airport.  Councilmembers will consider a service agreement with Bassco Services, Inc. for $232,012 for the design, construction and installation for the rebuild of the former Marathon Oil fuel farm and associated equipment from Alberth Aviation.  The fuel farm and equipment was purchased and relocated to the Brenham airport on March 15th, and includes two 12,000 gallon fuel tanks.
The council will also consider:
Accepting a $35,000 donation from the Fortnightly Club for the Nancy Carol Roberts Memorial Library.
Appointing members to the city's Airport Master Plan Committee.
The council will meet Thursday at 1 p.m. at Brenham City Hall.
Click here to view the agenda packet for Thursday's meeting.