BRENHAM HIGH SCHOOL GRADUATE SWORN IN AFTER PASSING BAR EXAM

A Chappell Hill native and Brenham High School graduate has completed law school and passed her bar exam.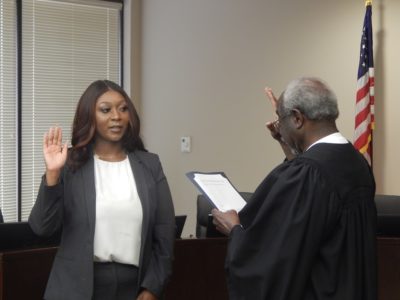 Surrounded by friends and family, JaKayla DaBera was sworn in as a lawyer this (Friday) afternoon by Brenham Municipal Court Judge Dr. Robert Wright and received her license to practice law.
DaBera graduated from Brenham High School in 2014, where she received scholarships from organizations including the Sigma Chi Chi Professional Women's Club, Brenham Bosom Buddies and Ladies Lions Club.  She studied for four years at Texas Lutheran University in Seguin, where she received a Bachelor's degree in Political Science and Sociology, with a minor in African American Studies.  She then studied for three years at Emory University School of Law in Atlanta, Georgia, graduating in May 2021 and passing her bar exam in July 2021.
DaBera is currently in the middle of a one-year clerkship for the U.S. Bankruptcy Court for the District of Delaware, under Judge John T. Dorsey.  After completing her clerkship in September, she plans to move back to Texas to work as a bankruptcy associate for Kane Russell Coleman Logan in Dallas.
DaBera said she decided to wait until today to be sworn in so that she could return home and share the moment with her family.  Her parents are Johnnie and Vera DaBera.