BUC BASEBALL FALLS TO GALVESTON, 6-3
Garrison Weiss and Caleb Schulz combine for four hits to lead Blinn

BRENHAM, Texas —The Blinn College baseball team dropped a nine-inning game to Galveston College, 6-3, at Leroy Dreyer Field Tuesday night.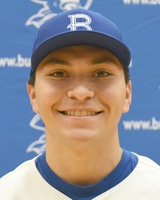 With the loss, the Buccaneers are now 12-11 overall and 7-8 in conference play.
The Buccaneers outhit Galveston 9-6 despite the loss. Garrison Weiss and Caleb Schulz each went 2-for-3 and scored one run, while Jett Garcia hit a solo home run to lead the offense. Jack Schell and Preston Hoffart also each drove in one run.
Colten Drake was solid on the mound in his start for the Buccaneers. He only surrendered two runs on three hits, while striking out five, in 5 2/3 innings. Patrick Hail gave up just one run on one hit in 1 1/3 innings, while Jake Olson surrendered just one earned run on two hits in two innings.
Blinn held a 3-0 lead after four innings before Galveston rallied back for the win. Blinn scored one run in each of the first two innings after Hoffart and Schell hit one-run singles, respectively. Garcia opened the fourth inning with a solo shot over the fence for the Buccaneers' final run of the game.
Galveston landed on the board in the sixth inning with two runs. Then, the Whitecaps tied the game 3-3 in the seventh inning. In the eighth inning, Galveston put up three runs to extend its lead to 6-3.
The Buccaneers continued to fight as Weiss, Schell, and Westley Shields drew walks to load the bases in the ninth inning. However, Galveston was able to get out of the inning undamaged.
Next, the Buccaneers will take on Galveston on Thursday, April 8, at 6 p.m. on the road.
Blinn has competed in intercollegiate athletics since 1903 and captured 41 NJCAA national championships since 1987. For more information, visit www.buccaneersports.com.