BURTON SCHOOL BOARD APPROVES PALMER'S RESIGNATION

The Burton School Board and Superintendent Jim Palmer worked in closed session for about 1 hour tonight on the details of a separation agreement.  Superintendent Palmer is retiring after 12 years with the Burton School District.  There were no public comments about Palmer's resignation during the open portion of the board meeting. After the closed session, the board voted 5 to 1 to approve the separation agreement.  The one dissenting vote was cast by board member Ronnie Hohlt.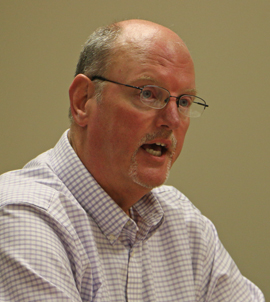 According to Board President Marcus Broesche, Palmer's last day with the district will be January 31st of next year.  Although the terms of the agreement were not released, Broesche said there was no buy out of Palmer's contract.  Palmer's current contract was renewed in July of this year and ran through June of 2017.  In a statement to KWHI last week, Palmer said that recent changes in his family life and his health made him seek retirement.  Palmer replaced Raymond Morris as Superintendent of Burton ISD in 2003.
Board President Marcus Broesche said that the district will begin looking for a new superintendent ASAP and promised to keep the media informed about that process to the extent that Texas law allows.