CAM NEWTON RELEASED BY PANTHERS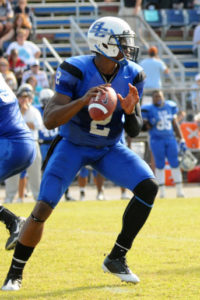 Former Blinn Buccaneer and 2015 NFL M.V.P. Cam Newton is looking for a new job.
The Carolina Panthers released Newton, the team's No. 1 overall selection in the 2011 draft, Tuesday.
Newton, who continues to rehab from foot surgery, had a physical in Atlanta on Monday, and passed.
Newton was the NFL MVP in 2015 when he led the Panthers to the Super Bowl, a 24-10 loss to Denver.  The Panthers made Newton the top overall pick in the draft after he won the 2010 Heisman Trophy with the Auburn Tigers.
In 2009 he led the Blinn Buccaneers to the NJCAA National Championship.  Newton had transferred to Blinn after two seasons at the University of Florida.
COLLEGE STATISTICS
Year
Team
Passing
Rushing
Comp
Att
Pct
Yds
Y/A
TD
Int
Att
Yds
Avg
TD
2009
Blinn
204
336
60.7%
2,833
8.4
22
5
108
655
6.1
16
2010
Auburn
185
280
66.1%
2,854
10.2
30
7
264
1,473
5.6
20
N.F.L. STATISTICS
PASSING
Games
Att
Comp
Pct.
Yds.
TD
Int
Lng
QBR
125
3,980
2,371
59.6
29,041
182
108
91
86.1
RUSHING
| | | | | | |
| --- | --- | --- | --- | --- | --- |
| Games | Att | Yds. | Avg. | TD | Lng |
| 125 | 934 | 4,806 | 5.1 | 58 | 72 |