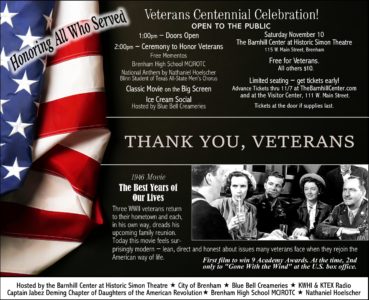 This Saturday, the Barnhill Center will recognize Veterans with a ceremony and free movie screening.
Doors open to the Barnhill Center for the Veterans Centennial Celebration at 1 p.m. A ceremony to honor veterans will be held at 2 p.m., which will include mementos, a performance of the National Anthem by Blinn's Nathaniel Hoelscher, and an appearance from Brenham High Schools MCJROTC.
Sharon Brass, with Main Street Brenham, says the 1946 classic, "The Best Years of Our Lives", is one of everyone's favorites.
Following the movie, there will be an ice cream social hosted by Blue Bell Creameries.
The event is free for any Veterans. All others pay $10.  Advance tickets are available through today (Wednesday), for Veterans and non-Veterans, at the Visitor Center on 111 West Main Street in Brenham.
Tickets can also be purchased online at http://thebarnhillcenter.com.  Any free Veterans tickets need to be obtained at the Visitor Center.  If supplies last, tickets will be sold at the door this Saturday.
The event is being supported by the City of Brenham, the Captain Jabez Deming Chapter of the Daughters of the American Revolution, KWHI and KTEX-106.
To learn more, call 979-836-3696.