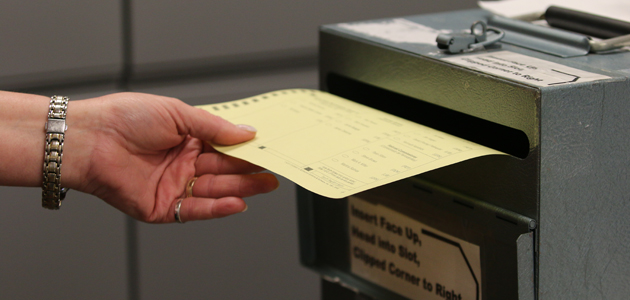 County Clerk Beth Rothermel says that because of the increased interest in the Primary Runoff Election, they will be extending the early voting hours Wednesday evening until 7:00 PM.  Over 200 voters turned out for Monday's Early Voting.  Voting is going on this week at the Courthouse Annex at 100 South Park Street in Brenham from 8:00 AM to 5:00 PM.  Early voting for both the Democratic and Republican Primary Runoff Elections on May 22nd will be continuing until Friday at 5:00 PM.
Rothermel reminds voters that if they voted in the March 6th Primary Election, they have to vote in the same party's runoff election.  If a voter did not vote in the Primary, then they can vote in the party runoff of their choice.
Rothermel said there is a lot of confusion among voters between the Republican Primary Runoff and the Special Election for the District 13 House seat.  The Primary Runoff election on May 22nd is to determine the Republican candidate that will face Democrat Cecil Webster in November election.  The Special Election was to elect a representative to fill the District 13 House seat until the winner of the November election takes office in January.  In the May 5th special election, Jill Wolfskill and Ben Leman received the most votes, but neither received a majority of votes to be elected.  Although they have each agreed that the loser of the Primary Runoff Election will withdraw from the Special Election Runoff, that officially hasn't occurred yet and the Governor has not set a date yet for the Special Election Runoff.