NEW DRUG DOG "ASPEN" WELCOMED INTO SERVICE IN WASHINGTON CO.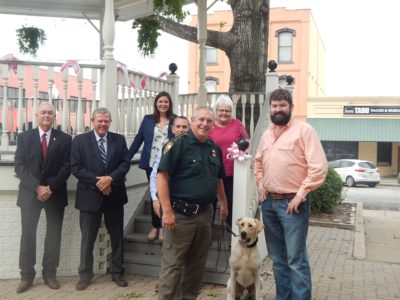 Washington County's newest member of law enforcement begins his service today (Tuesday).
County Commissioners welcomed a new drug dog, who was donated to the county in August by Aspen Midstream, LLC.  The dog, fittingly named "Aspen", is a two-year-old yellow Lab.
Precinct Four Constable Greg Rolling said Aspen is completely trained, and added that he is not a "bite dog".  He said Aspen will be able to be used across the county, and even knows a few commands in Czech.
At this morning's meeting, commissioners accepted a donation from Aspen Midstream for a dog kennel.  Chad Martin of Aspen Midstream said the company appreciates the hospitality and generosity shown to them by the Washington County community, and that it looks forward to being a part of the community for a long time.