PUBLIC CELEBRATES OPENING OF NEW LITTLE FREE LIBRARIES AT BRENHAM PARKS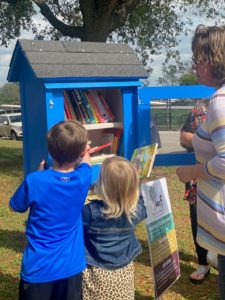 Several Brenham parks are now playing a part in a worldwide book-sharing movement.
The City of Brenham and Fortnightly Club of Brenham held ribbon cuttings Tuesday to mark the opening of new Little Free Libraries at Jerry Wilson, Hattie May Flowers, and Jackson Street Parks.
Little Free Libraries act as neighborhood book exchanges, inviting the public to either take or leave a book.
Families attending the ribbon cuttings were invited to bring books to help stock the new libraries.  The Fortnightly Club will continually monitor the libraries to ensure books remain appropriate.  It will also restock the libraries when needed.
Anyone interested in donating to put more Little Free Libraries in Brenham parks can contact Fortnightly Club member Suzy Hankins at 979-836-7393.  To learn about Little Free Libraries, and to see a map of libraries in Brenham, visit https://littlefreelibrary.org.