REGISTRATION OPEN FOR CHAPPELL HILL HISTORICAL SOCIETY FALL HARVEST, SCARECROW CONTEST

Registration is underway for the Chappell Hill Historical Society's Annual Fall Harvest and Scarecrow Contest.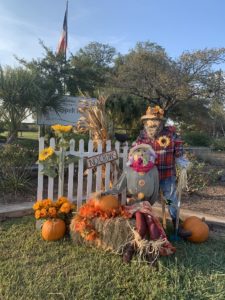 Even with the cancellation of this year's Scarecrow Festival, Chappell Hill residents and businesses are encouraged to take part in the contest and bring to life fall themes and colorful scarecrows.
The deadline to enter into the contest is next Thursday, October 1st, the same day fall harvest themes and scarecrows must be displayed.  Judging will take place on Saturday, October 3rd, and will award first, second and third place ribbons along with honorary runner-up ribbons.
Entry forms can be picked up and dropped off at the Chappell Hill Historical Society Museum at 9220 Poplar Street.  A copy of the entry form is also available here.  Completed forms can also be emailed to chappellhillmuseum@gmail.com.
After all entries are submitted, a list of the entries will be available at the museum for the public to use when driving around Chappell Hill and enjoying the fall harvest and scarecrow displays.