A former award-winning sportscaster and inspirational speaker will visit St. Peter's Episcopal Church in Brenham next month.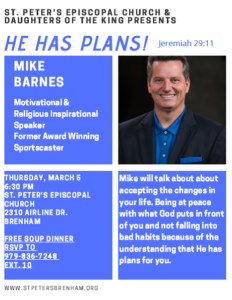 Mike Barnes will present "He Has Plans" on Thursday, March 5th at 6:30 p.m. at the church, located at 2310 Airline Drive.  Barnes will talk about dealing with everyday problems, accepting changes, and not falling into bad habits.
Barnes was an award-winning sportscaster in Austin for 29 years, named Best in Austin 17 times and Best in Texas four times.  For the past year, he has teamed with his wife in Barnes Team Media to consult and train people for on-camera and public speaking work.
Barnes has brought his messages to churches, conferences, teen retreats, college groups, FCA/Young Life and Bible studies.
The program, sponsored by the Daughters of the King of St. Peter's Episcopal Church, is free and open to the public.  A light soup supper will be served at 6:30 p.m.
To RSVP, call 979-836-7248.