Washington County Commissioners approved the district and county clerks' archive plans when they met this (Tuesday) morning.
The county is required to file this plan annually, as it collects fees when various documents are filed with the county.  The fee is currently $10, but will go down to $5 in October of next year.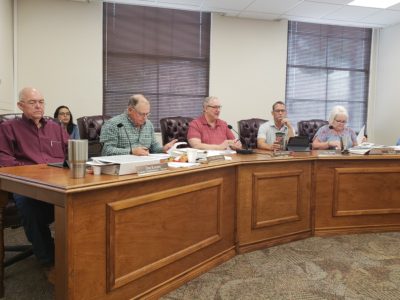 District Clerk Tammy Brauner said the fees go towards the preservation of old documents that date as far back to the early 1830's.  These records include court and school records, as well as immigration data.
Brauner said the county has scanned documents back to 1978.  County Clerk Beth Rothermel said the archival project is a priority, as these documents are still frequently used in civil cases.
Commissioners also approved the purchase of upgrades to the county's E 911 voice recording system.  Washington County E 911 Director Kristi Stamnes said that E 911's new dispatching software wasn't working correctly with the county's old recording system, which prompted the upgrade request.  County Judge John Brieden said the upgrade costs $32,025, which will come out of contingency funds.
The court also approved rates for the Washington County Health Employee Benefits Pool.  Commissioner Joy Fuchs said that employees will pay the same as they did last year, and that premiums for the county went down 3.2 percent.  These rates will apply for the new plan year, which begins October 1st and ends September 30, 2019.
Commissioners approved the new budget for the Washington County Appraisal District, totaling $829,836.  This is $6,870 more than last year's budget, with the biggest increases coming from Burton ISD at nearly $3,200, and the City of Brenham at over $2300.
Commissioners also approved the appraisal district's request to retain $24,571 in funds from its 2016-17 budget.  These funds will go into a reserve for pictometry planning for 2020, which will be used for items like appraisals and flood planning.  The court also approved the district's request to transfer $15,000 from fleet replacement into a computer backup system.
In other items, the court approved Ross McCall as a replacement on the Salary Review Committee, the two-year appointment of election and alternate election judges for upcoming elections, and revisions to the county's Personnel Policy Manual.