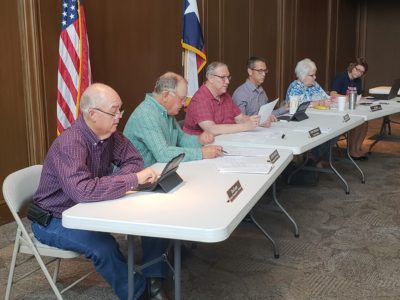 Washington County Commissioners agreed to start the first phase of the new Emergency Communications and Operations Center at their meeting today (Tuesday).
The county has a contract with Page Southerland Page, an architectural firm out of Austin, for $42,900, for initial stages of developing a new facility. County Judge John Brieden deemed these stages a "concept phase".
Currently, the county is renting the dispatch center from the City of Brenham. The current five year lease that expires in September of next year can be renewed five years annually.  Brieden said, after that time frame, the city could not guarantee the building would be available for rent, as it could pursue developing that property.
Brieden said this is just early discussion, to stay ahead if plans change.
When talking with City Manager James Fisher, he said no one from the city has told the county of any other plans for that building.
Currently, the county budgets around $1.75 million for communications operations out of the city building, with around three-fourths of that being personnel costs. The county pays the city $1,000 a month for rental of the building.
Commissioner Joy Fuchs says the county is not unhappy with the current building it is in, but it wants to anticipate future growth in the county. She is also looking for a "hardened" building that can safely house all of the county's communications equipment.  She says the county has been in "constant communication" with the city about this facility.
Brieden says the county does not have cost estimates for a new communications facility currently, nor has it decided on a location for it. He says, if plans move forward with this center, the county will explore plans to finance it.
Brieden says the county has a comprehensive inter-local agreement that dictates which services the county and city are responsible for. Roughly five years old, the agreement covers which county and city-wide services both Brenham and Washington County are responsible for. For example, Brieden said, the county takes care of 911 and dispatch services, while the city is responsible for animal control and the animal shelter.
In other items, commissioners:
Approved a memo of understanding between Washington County EMS and Texas A&M Engineering Services for Flood Boat Operator Training.
Approved the purchase of around $86,000 of additional digital storage from DataVox, to store footage from dash-cam and body-cam videos from traffic stops and arrests.
Approved beginning advertising for bids for Road and Bridge materials.  County Engineer Ross McCall said bids will open on December 3rd, and they will be awarded on the 11th.
Approved the purchase of a new desktop computer by Precinct 2 Justice of the Peace, from JP Technology funds.
Approved the Sheriff's Office request to purchase ten portable radios through the Homeland Security Grant.
Set the 2019 County Holiday Schedule.  As Texas Independence Day falls on a weekend in 2019, the county will instead use a holiday for President's Day.
Approved a pair of variance requests.