WASHINGTON CO. COMMISSIONERS RECEIVE ROAD AND BRIDGE FACILITY CONSTRUCTION UPDATE

Washington County Commissioners heard an update on the ongoing construction of the Washington County Road and Bridge facility at their meeting today (Tuesday).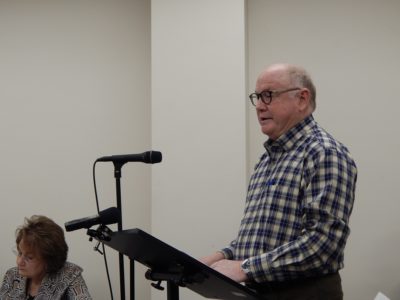 Commissioners received an update from program manager ECM International, Inc. regarding the facility being built on 21 acres of property on Highway 36 North. The facility will house the Road and Bridge Department, rural addressing and environmental services upon completion.
Hugh Katz, Project Manager for ECM International Inc., said construction is "proceeding on schedule", and should be complete by March 19th, 2020.
Katz said there is currently $13,000 left in the original project budget, but noted that there are expenses to consider for additional items not included in the original contract for the facility, approved last year. Among other items, those include fiber optic cabling and equipment for the Information Technology Department, office furniture, a tire shop, a fuel farm, and frontage access to the facility.
County Engineer Ross McCall said the Road and Bridge Department is still determining "needs" and "wants" for the facility and looking at which items to prioritize. He said the department will gather the costs for the additional items being considered and put them before a finance committee.  Those items could be brought before commissioners as change orders to the original contract at a later date.
Also at today's meeting, commissioners:
Tabled a memorandum of understanding between the county and its volunteer fire departments.  County Judge John Durrenberger said that volunteer firefighters requested more time to read through the memorandum.
Approved authorization to issue requests for proposals (RFPs) for administrative services and requests for qualifications (RFQs) for engineering services related to the 2020 Texas County Transportation Infrastructure Fund (CTIF), administered by TxDOT.  Proposals will be due January 6th at 5 p.m., and will be opened at the court's meeting on the 7th.
Approved a Lexis Advance subscription agreement for the County Attorney's office for 2020-2022, and gave authority to County Attorney Renee Mueller to sign the agreement as the authorized subscriber.  Mueller said the subscription for the computerized research service went up $48 a month.  She said the County Attorney's office was not aware of the increase, but will cover the added expense this year out of its pre-trial diversion fund.  However, she said the office will look to the court for funding in next year's budget request.
Set the dates and times for commissioners court meetings on Tuesdays at 9 a.m. for 2020, and added that monthly reports will be due on Monday, December 23rd.