The winners for the 2019 Spring Eggs Art Walk have been announced.
Awards were given to several categories for adults and students. Winners were decided based on public and judge voting, as well as success in an online auction.
A total of 60 eggs participated in this year's contest.
This year's winner of best spring theme, or "The Golden Goose", is "A Sweet Surprise" by Kenjura. The winner receives a $200 cash prize sponsored by Kieke Egg Farm.
In the adults category, the most-voted-for egg was "24 Carat" by City of Brenham Utility Billing. Judge's Pick goes to "Show Me the Bunny" by Riquelmy, Most Original to "Sparkles the Unicorn Eggs-perience" by Shehorn, and Most Artistic to "Thumper" by the City of Brenham.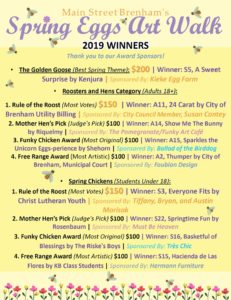 In the students category, the egg which received the most votes was "Everyone Fits" by Christ Lutheran Youth. Judge's Pick was "Springtime Fun" by Rosenbaum, Most Original was "Basketful of Blessings" by the Riske's Boys, and Most Artistic was "Hacienda de Las Flores" by KB Class Students.
Main Street Manager Caz Muske said 14 eggs were bid on and purchased in the online auction. Proceeds from the auction go into the Main Street Brenham program, towards different grants for the upkeep of downtown Brenham.  Eggs not bid on become the property of Main Street Brenham, for future use and decoration.
Winners this year are below. All photos are courtesy Main Street Brenham: