VFW POST DONATES FOR MILITARY EXHIBIT AT BRENHAM HERITAGE MUSEUM

James F. Dillon VFW Post 7104 has made a donation to the Brenham Heritage Museum to be used towards their permanent Washington County Military Exhibit.
After a brief explanation of the military history project by Museum Director Mike Vance, Post Commander Ben Seeker presented him with a donation of $1,000 to be used towards the exhibit.
The exhibit will tell Washington County's military history using representative artifacts, digital technology, audio clips, images, and video.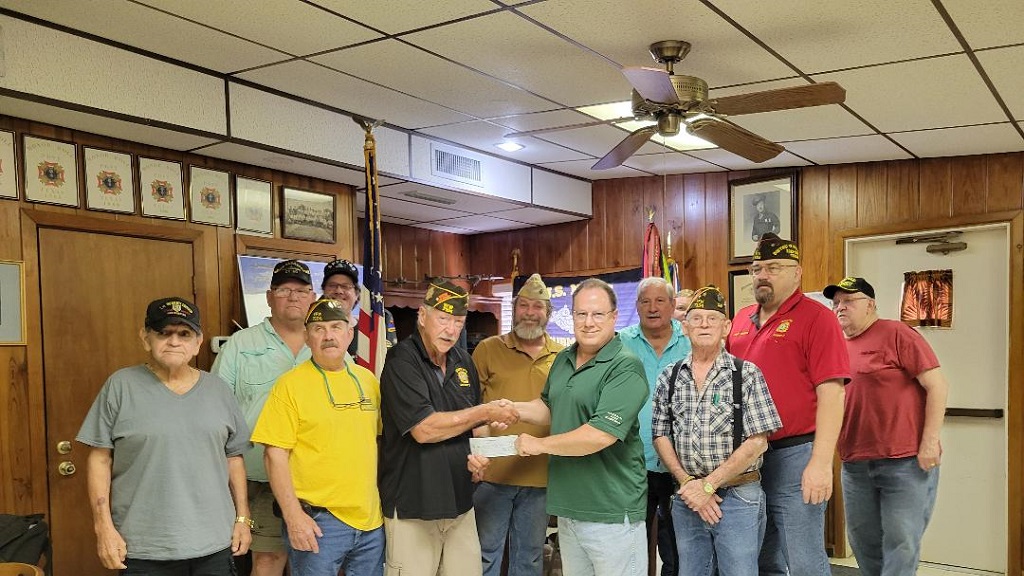 The museum had recently announced that they were offering a "friends group" approach that allows donors to earmark capital campaign donations of any size so that it will go exclusively to support the Washington County Military permanent exhibit.
Knowing that many people place special, personal value on this particular piece of history, the museum felt that a collective approach would allow more people to be stakeholders.
The VFW Post gift, and a donation of $500 from the National Guard Company B 386th Engineers Reunion fund have kickstarted the effort.
The Washington County Military Exhibit is scheduled to be in place when the museum re-opens in late September.
For more information, or if you would like to donate to the Military Exhibit or any other exhibit at the Museum, visit their website at www.brenhamheritagemuseum.org. You can also give them a call at 979-551-3750, or send an e-mail to director@brenhamheritagemuseum.org.