BELLVILLE FARMER MARKET RETURNS ON SATURDAY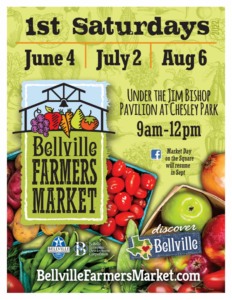 The first of the month Bellville Farmers Market returns tomorrow (Saturday) morning.
The Bellville Farmers Market will be held from 9am-12 noon under the shaded Jim Bishop Pavilion at Chesley Park.
The Farmers Market is located near the intersection of North Bell Street and Palm Street, which is about one block from the historic downtown square in Bellville.
There will be over 40 vendors on hand selling a variety of goods.
Items include produce, meat, eggs, honey, wine, plants, jellies, soaps, artisans, baked goods, and more.
For more information, you can visit their Facebook page, or check out their website at www.BellvilleFarmersMarket.com.