DEANVILLE VFD HOLDING THEIR ANNUAL FUNDRAISER THIS SUNDAY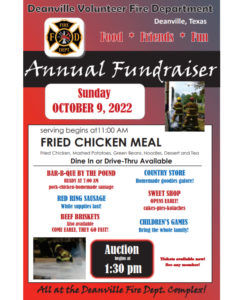 The Deanville Volunteer Fire Department is holding their annual fundraiser this Sunday.
They are serving a meal beginning at 11am at the Deanville Fire Department Complex.  The meal consists of fried chicken, mashed potatoes, green beans, noodles, dessert, and tea.
The meals are dine-in or drive-thru.
In addition to that, they will have barbecue pork, chicken, and homemade sausage by the pound.  Red ring sausage and beef briskets are also available while supplies last.
Plus, there is going to be a country store with goodies galore, as well as a sweet shop with cakes, pies, and kolaches.
They will also have children's games and an auction beginning at 1:30pm.
Tickets to the Deanville Volunteer Fire Department fundraiser are available now, and you can purchase them from any of their members.