BASTROP MAN ARRESTED ON MULTIPLE CHARGES IN FAYETTE COUNTY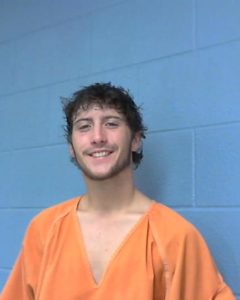 A Bastrop man was arrested on Wednesday after leading Fayette County Sheriff's Deputies on a lengthy chase.
According to Fayette County Sheriff Keith Korenek, Narcotics Investigators attempted to conduct a traffic stop on a white 2003 Chevrolet SUV on Hrbacek Street in the Cedar Creek subdivision.
The driver failed to stop and a pursuit ensued through the subdivision with the vehicle turning on Von Minden Street and then north on FM 2145.
The vehicle turned in on a driveway on FM 2145 just before Chapparal Estates. The driver bailed out of the vehicle, jumped a fence, and a foot pursuit followed.  As he was jumping out of the SUV, the vehicle damaged a gate that was located on the property.
Narcotics Investigators and Sheriff's Deputies were able to catch up to the suspect, who was later identified as 18-year-old Hayes Burger of Bastrop. Burger was charged with Evading Arrest and Detention with a vehicle, Possession of a Controlled Substance, Unlawful Carrying a Weapon, and Criminal Mischief.
After being taken into custody, Burger was transported to the Dan R. Beck Justice Center.