CHAPPELL HILL TO HOST 4TH ANNUAL ARTWALK SATURDAY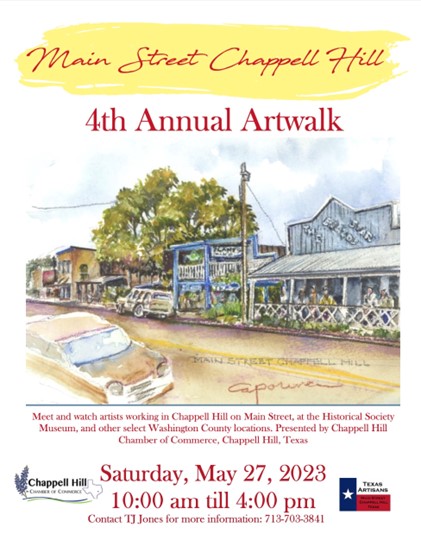 Beautiful artwork will fill Chappell Hill on Saturday during the town's 4th Annual Artwalk.
Visitors can come from 10 a.m. to 4 p.m. to see over 20 artists competing for cash prizes by creating masterpieces along Main Street, at the Chappell Hill Historical Society Museum and other select locations.
TJ Jones of Texas Artisans, who is organizing the event along with the Chappell Hill Chamber of Commerce, says a record number of artists are participating this year, including some notable ones.
Artists will start with a blank canvas and are able to use whichever medium they prefer. The theme for the event is open subject matter. They will also have some art from their own collections for sale, potentially including the piece they are working on at the event.
Judging of the art begins at 4 p.m. Attendees will have the opportunity to vote for their favorite creations in a people's choice award.
In addition to the artwork, the Chappell Hill Garden Club will have photography available to see and purchase at the Bluebonnet House and Garden Center. Money raised from any purchases will support the garden club.
The Artwalk is free to attend. Parking is available off of Poplar Street and at the museum.
To learn more, visit www.chappellhilltx.com.