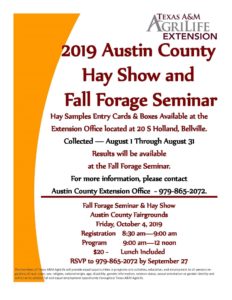 Several locations in Austin County are now taking hay samples for analysis.
The Beef and Forage Committee of Austin County is asking beef cattle producers to turn in samples of their hay.  The analysis will be done by the Texas A&M Forage testing lab, and the results will be handed out during the annual Fall Forage Seminar at the Austin County Fairgrounds on October 4th.
Samples can be turned in at the Austin County Extension Office, Harrison's Farm Service and Linseisen's Feed in Bellville, Steinhauser's Inc. in Sealy, Dudensing Farm Service in New Ulm, and Lindemann's Store in Industry.
The committee says the analysis will provide useful information on the quality of the hay fed to livestock.  It also says tests will help determine what additional level of supplement hay may need during the winter.
Producers can submit as many samples as they wish in categories such as Bermuda grasses, warm and cool-season grasses, legumes, and legume-grass mixes.  There is no entry fee; however, the deadline to enter samples is August 31st.
For more information on turning in forage samples, go online to http://austin.agrilife.org.