BURTON ISD MEET THE TEACHER, MEET YOUR PANTHERS SET FOR AUGUST 11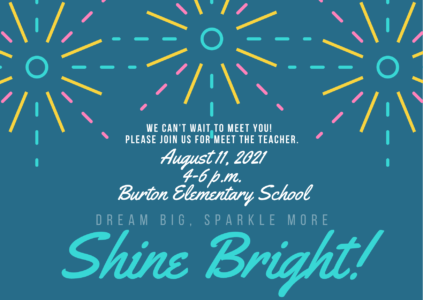 Burton ISD invites the public to meet its teachers and student-athletes for the new school year.
"Meet the Teacher" will take place August 11th from 4 to 6 p.m. at Burton Elementary School, allowing students to interact with teachers and pick up their schedule.  The Brazos County Health District's Brazos Valley Mobile Action Team will be offering Pfizer vaccines for ages 12 and up during the event.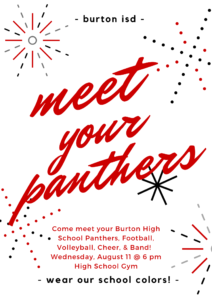 After the orientation, "Meet Your Panthers" will be held at 6 p.m. at the Burton High School gym, and will introduce the Panther football and volleyball teams, along with the cheerleaders and band.
Anyone wishing to sign up to receive a vaccine can contact LaToya Taylor at ltaylor@brazoscountytx.gov or 979-361-5747, or Kimberly Hall at krhall@brazoscountytx.gov or 979-361-5732.