BRENHAM VOLLEYBALL TO HOST 'DIG PINK' FUNDRAISER, OCTOBER 12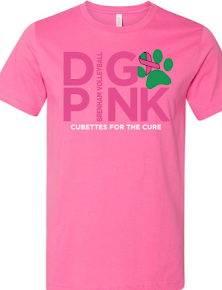 The Brenham Cubette volleyball team has announced that Tuesday, October 12th, the team will celebrate its annual Dig Pink Night.
Each year, the Cubettes host a fund-raiser for the Side-Out Foundation, a non-profit and research organization, committed to providing life-extending solutions for victims of metastatic breast cancer.
A major part of the fund-raiser is the bucket raffle.  Anyone who would like to donate a prize to the raffle is asked to contact the Brenham High School Athletic Office.
The team will also be selling Dig Pink T-Shirts.  To pre-order, go to: https://bit.ly/digpinkt21.
The Cubettes will face A&M Consolidated on Dig Pink night.  The game can be heard live on KWHI.