DOWNTOWN BRENHAM GETTING READY FOR CHRISTMAS STROLL, LIGHTED PARADE

In a week's time, downtown Brenham will be filled with holiday cheer.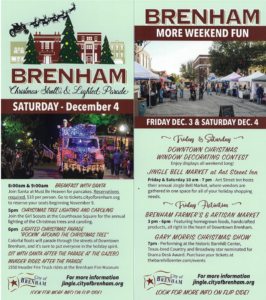 The City of Brenham's annual Christmas Stroll and Lighted Parade are set for next Friday and Saturday, December 3rd and 4th, featuring a full weekend's worth of festive activities like holiday shopping, live music, dance performances, the lighting of the courthouse square and the lighted parade through downtown.
Events kick off on Friday with shopping at the Jingle Bell Market at the Ant Street Inn from 10 a.m. to 7 p.m. and at the Farmer and Artisan Market on Baylor Street from 3 to 6 p.m.  Guests can then head to either The Barnhill Center for a Christmas show with country and Broadway star Gary Morris at 7 p.m., or to Unity Theatre for a showing of "Tuna Christmas" at 8 p.m.
The fun continues Saturday morning with Breakfast with Santa at Must Be Heaven at 8 and 9 a.m.  Children can enjoy pancakes, face painting, kids' activities and pictures with Santa Claus.  Tickets are $10 per person, and reservations are required.
A second day of the Jingle Bell Market will follow from 10 a.m. to 7 p.m.
At 5 p.m., local Girl Scouts will gather at the courthouse for caroling and the lighting of the Christmas trees.  The lighted parade, featuring a theme of "Rockin' Around the Christmas Tree", will begin at 6 p.m., making its return after not being held last year.
After the parade, children can sit with Santa at the courthouse gazebo and take a ride on the 1950 Invader Fire Truck at the Brenham Fire Museum.  A second showing of "Tuna Christmas" will start at 8 p.m. at Unity Theatre.
To learn more about next weekend's holiday activities in Brenham, visit http://jingle.cityofbrenham.org.
KWHI will have live reports from the Christmas tree lighting starting at 4:30 p.m., and will broadcast the parade beginning at 6 p.m. on AM 1280, FM 101.7 and kwhi.com.