CHAPPELL HILL PARADE GUNNER AND KAZOO BAND LEADER WINNERS ANNOUNCED

The Chappell Hill Chamber of Commerce has announced the winners for "Official Chappell Hill Parade Gunner," and "Official Kazoo Band Leader."
Chamber President Joel Romo announced that the Travis and Linda Cook family will serve as the "Official Chappell Hill Parade Gunner."
The Cooks own T&L Maintenance and have been key supporters of the Chappell Hill Volunteer Fire Department.
They will help kick-off the 4th of July Parade ceremonies on Monday by firing the Kingfisher Cannon loaned to the event by Roger and Paula Imm.
Chappell Hill Bakery and Deli won the "Official Kazoo Band Leader." Owners, John & Carolyn Kopycinski, are also serving as the Grand Marshals for the parade.
Mrs. Kopycinski and the late Joycine Hanath were instrumental in organizing and creating the "World Famous Kazoo Band," and the families wanted to recognize both ladies for their contributions to the Chappell Hill community.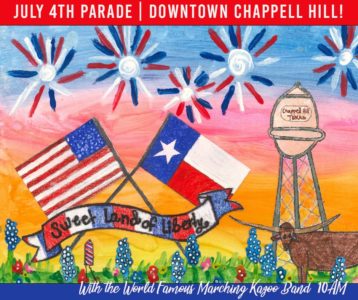 The Kopycinski family has asked Canyon Andersen, who designed this year's artwork for the parade and celebration, to serve as the Kazoo Band leader.  She is the daughter of Chris Andersen, and Chamber Board member Lauren Cox.  She will lead the Kazoo band with a personalized parade baton designed by Chappell Hill wood artisan, Todd Burch.