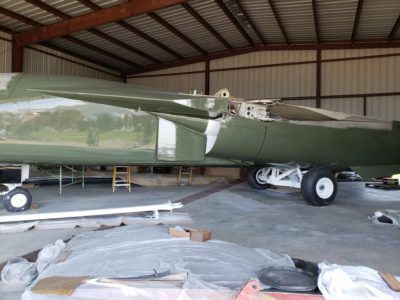 A project to restore a Vietnam-era fighter jet will soon be available to see in Henderson Park.
The Washington County Veteran's Association (WCVA) will be moving the F-111 Air Force jet they have been restoring at the Brenham Airport.
The plane will be towed from the airport to Henderson Park Saturday, September 29.
At 9 a.m., the plane will leave the Brenham Airport and turn right onto Airport Road. From there, it will make a left onto Old Independence Road, followed by a right on Blue Bell Road.  It will then turn left onto Park Street, where it will then arrive at Henderson Park.
The public is invited to come out and watch the plane on its route.  However, parking will not be allowed on the transport route, to ensure the plane can make its way to Henderson Park safely.  The route will be closed to traffic in certain sections, during the transfer.
As the plane makes its way to the park, there will be viewing areas on the east side of Old Independence Road by the fairgrounds, with a parking lot by the ball fields.  In addition, people can watch from the south side of the fairgrounds on Blue Bell Road, with parking space available.  The local Pilot Club will be handing out American flags in the area.
The project began in January of 2016, when WCVA representatives met with the Brenham City Council to get permission to place an F-111 in the park. The jet stands 17 feet tall and 77 feet long, with a wingspan of 45 feet.
The plane arrived in Brenham in September of last year, and has been a project of the WCVA at the airport since. Thousands of hours and numerous donations have been put into the restoration project.
Formal dedication of the plane at the park is scheduled for Veteran's Day, November 11.  A program will be held in American Legion Post 48, across the street from the plane's permanent display site on North Park Street.  Two Vietnam POW's who were shot down while in F-111's will be recognized at the program.
For more information, contact WCVA President Ben D. Seeker at 979-277-5061, or email bendseeker@gmail.com.