STATE WAIVER FOR LATE VEHICLE REGISTRATIONS EXPIRES APRIL 14TH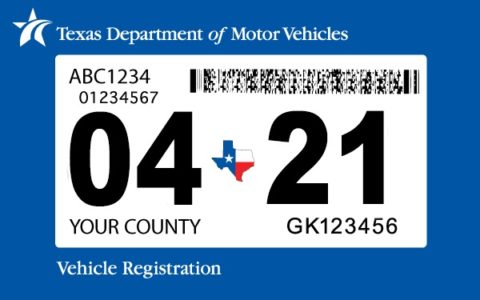 Time is running out for Texas drivers to update any late vehicle registrations.
The state's temporary waiver of certain vehicle title and registration requirements, instituted in March 2020 by Governor Greg Abbott, expires at 11:59 p.m. on Wednesday, April 14th.  After that time, law enforcement can begin issuing citations to drivers who do not have a current registration sticker or receipt.  There is no grace period.
Washington County Tax Assessor-Collector Cheryl Gaskamp says there are several ways for drivers to renew their registrations.
Online registration is available up to nine months past a driver's registration expiration date, and can be done at www.TxDMV.gov or www.Texas.gov.  Registration can also be done by mail, but drivers need to allow enough time for mail delivery and processing.  The tax assessor-collector's office at the Washington County Courthouse is open from 8 a.m. to 4:30 p.m.
According to the most recent data from the Texas Department of Motor Vehicles, there were approximately 41,806 registered vehicles in Washington County as of January, 1,355 vehicles less than in January 2020.
Anyone with questions can visit one of the previously mentioned websites, or they can go to www.co.washington.tx.us.  They can also call the courthouse at 979-277-6200.