BRENHAM K-9 OFFICER RONNY RECOVERING AFTER EMERGENCY SURGERY

A member of the Brenham Police Department is in that recovery phase right now – thanks to the skills of some dedicated doctors both in Brenham and at Texas A&M Veterinary Hospital.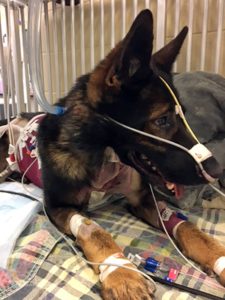 K9 Ronny, a four-legged officer, recently underwent surgery after being diagnosed with a major lung infection. The surgery lasted six hours and it was touch and go for a while.
Ronny's partner, Hunter Andras, noticed that Ronny was acting lethargic and took him to Dr. Lee Panko with Brenham Veterinary Hospital who sent them directly to Texas A&M.  "It was a decision that saved Ronny's life," said Brenham Police Chief Craig Goodman.
According to the senior clinician on Ronny's case, he was diagnosed with a severe bacterial infection on his lungs and chest.
"Ronny required a long and difficult emergency surgery to clear out the infection. He remained in the intensive care unit for a week with chest tubes, oxygen support, and many medications to help him heal. His care and recovery were a big team effort with surgery, anesthesia, radiology, and critical care all involved" said Dr. Medora Pashmakova.
Doctors say Ronny made huge leaps of improvement with each day despite being so sick and compromised at the start. "He is a stoic and strong dog, but also very gentle and an excellent patient. He has become an ICU favorite and loves to get walks, attention, and food whenever possible" said Pashmakova. "At this time, he has had all of his tubes removed and is off oxygen support and doing great. We are optimistic that he can go home this week and continue to heal with his family and friends around him."
Ronny will need 24 hour care for a while, which will be provided by the staff at Brenham Veterinary Hospital during the day and Andras in the evening.
"We are modifying Hunter's schedule so he can be with Ronny as much as possible" says Chief Goodman. "Ronny is an important member of our department and we want to do all we can to ensure he gets well soon"
"We truly appreciate the dedicated doctors and staff at both the Brenham Veterinary Hospital and Texas A&M. The care they have shown our Ronny Boy is amazing" says Goodman.