ONE HOSPITALIZED AFTER ROLLOVER ACCIDENT ON FM 50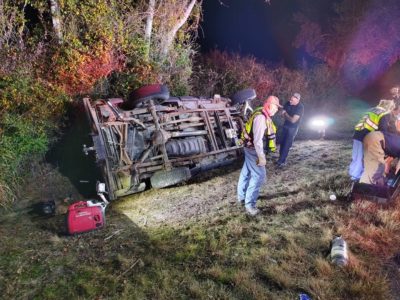 One person was flown to the hospital after a rollover accident Friday night north of Brenham.
According to Prairie Hill Volunteer Deputy Chief Doug Zwiener, a truck was driving on FM 50 around 8:30 p.m. when it left the roadway and struck a row of trees, spinning the truck around onto its side and pinning the driver.
The Brenham Fire Department, with mutual aid from the Prairie Hill Volunteer Fire Department, used winches and other equipment to lift the vehicle, which was on top of the driver's arm when first responders arrived.
The driver was flown by Washington County Air Med One to an area hospital.  Zwiener said at last check, the patient was recovering.