BELLVILLE FFA MEMBER PLACES FIFTH AT STATE SPEAKING COMPETITION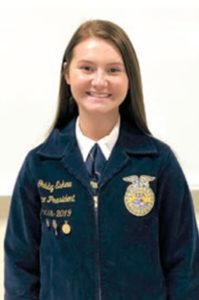 A member of Bellville FFA recently placed among the top individuals in a statewide speaking competition.
Gabby Eskew finished fifth among 12 contestants in the State Prepared Speaking Competition, which tasked students with presenting a six to eight minute speech on a topic related to agriculture.  Eskew spoke on "Food Waste in the United States".
Due to COVID-19, this year's competition was held virtually.  Students sent in recorded speeches before answering questions via live videoconference.
Eskew is the third student from Bellville FFA to place in the top ten at the state speaking event, with Brenda Schumann taking the title at the National FFA Speaking Contest in 1996.