BRENHAM CITY HALL TEMPORARILY CLOSED AFTER THREE COVID-19 CASES REPORTED IN EMPLOYEES OVER PAST WEEK
CITY EMPLOYEES NOW REQUIRED TO WEAR MASKS WHILE WORKING IN PUBLIC

Brenham City Hall has temporarily been closed after several new cases of COVID-19 were reported in employees in recent days.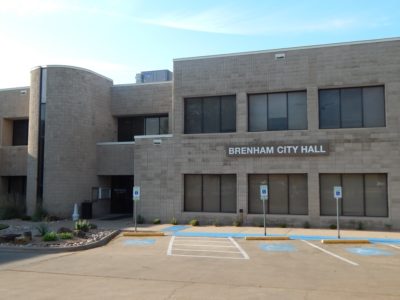 City Manager James Fisher said over the last week, three employees within the building have tested positive for the coronavirus.  He said he is not certain how long the closure of City Hall will last at this point, but expects it to be at least a week to two weeks.
The recent increase in cases has also prompted the city to require its employees to wear face masks while working in public or while in public spaces at city offices.
Fisher also said the city has asked its employees to work virtually whenever possible, while city boards are being asked to meet virtually.  The city council will meet in person Thursday, but Fisher said discussion will be held on whether the council needs to go back to meeting virtually again.