EMERGENCY GUNS AND HOSES BLOOD DRIVE FRIDAY AT FIREMAN'S TRAINING CENTER IN BRENHAM

Those who are healthy and able to give blood are encouraged to come to the Fireman's Training Center in Brenham tomorrow (Friday) for an emergency Guns and Hoses Blood Drive.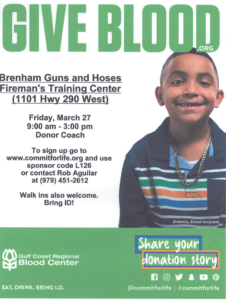 The donor coach will be set up at the Fireman's Training Center from 9 a.m. to 3 p.m.  Officials with the blood drive say all proper social distancing guidelines will be followed.
Many blood drives across the nation have been cancelled due to concerns about COVID-19, thus leading to a blood shortage.
According to the Gulf Coast Regional Blood Center, COVID-19 does not pose any risk to blood donors, either during the donation process or while attending organized blood drives.  The U.S. Food and Drug Administration (FDA) says there have been no reported or suspected cases of transfusion-transmitted COVID-19.
To sign up for the blood drive, go online to www.commitforlife.org and use sponsor code L126, or contact Rob Aguilar at 979-451-2612.  Walk-ins are welcome.
Donors are asked to bring their ID, and to not come in to donate if they are feeling ill.