TWO CRITICALLY INJURED AFTER HOME EXPLOSION IN ELLINGER
Two Fayette County residents have been transported for serious injuries after a house explosion early this (Tuesday) morning in Ellinger.
Authorities responded shortly before 6:45 a.m. to the explosion at the home on the corner of Grover and West Schumacher Streets.  According to the Fayette County Sheriff's Office, first responders arrived to find the home was leveled by the explosion and was on fire.
The Fayette County Record reports the blast scattered debris blocks away, with the Sheriff's Office saying several other homes in the area had damage from the explosion.  The blast was reportedly felt by residents from several miles away.
Update @ 8:25 a.m. Wednesday: Two elderly residents of the home, identified as Michael and Mazie Hess, were transported by Air Evac and Washington County Air One to Dell Seton in Austin in serious condition. The two suffered severe burns and are undergoing surgery for internal injuries.  No other injuries were reported.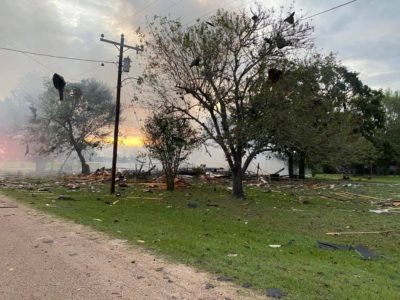 The cause of the fire and explosion is believed to have been a propane leak, but remains under investigation by the State Fire Marshal's Office.
Responding agencies included the Ellinger and Fayetteville Fire Departments, Fayette County EMS, the Sheriff's Office, Precinct Two Constable Roger Wunderlich, Air Evac, and Washington County Air One.