BRENHAM SCHOOL BOARD TO DISCUSS JUNIOR HIGH SCHOOL, CAMPUS SECURITY, PRINCIPALS

The Brenham Junior High School, district safety and security, and new leadership at several campuses will all be discussed tonight (Tuesday) by the Brenham School Board.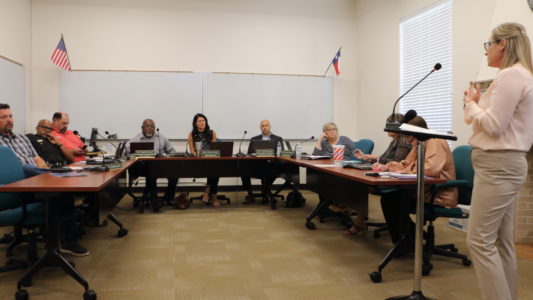 Trustees will consider conducting a structural assessment of the junior high school, the main component of the bond measure that was rejected by voters last month.
The board will also review current safety measures utilized by Brenham ISD and discuss options to enhance them, one being the potential purchase of lockdown low profile floor pits for campus and office security.
In other items, the board will consider approval of a compensation handbook for the 2022-23 school year, using funds to purchase vehicles for the CTE Department and Special Education Department, and purchasing the Panorama program.
There will also be an executive session to discuss hiring campus principals for Brenham Middle School and Krause Elementary School, and an assistant principal for Alton Elementary School.
The board will meet at 6 p.m. in rooms 111 and 113 at Brenham High School.  The meeting will be livestreamed on Brenham ISD's YouTube channel.
Trustees will also meet tomorrow (Wednesday) at noon in the Brenham ISD Administration Office to conduct architect interviews and hold an executive session to go over personnel matters.