BLUEBONNET BUILDINGS, VEHICLES, EMPLOYEES PUT ON PINK IN OCTOBER TO SUPPORT FIGHT AGAINST BREAST CANCER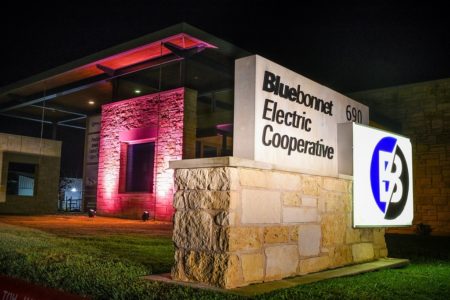 For the 10th consecutive year, Bluebonnet Electric Cooperative's buildings, vehicles and employees have donned pink during October to raise awareness of National Breast Cancer Awareness Month.
Throughout this month, Bluebonnet's member service centers in Bastrop, Brenham, Giddings, Lockhart and Manor will be bathed in pink light at night, employees will wear pink hard hats and pink shirts, and pink ribbon decals will decorate the co-op's vehicles. Bluebonnet is also handing out breast cancer shower cards at its member service centers with instructions on how to perform early detection self-exams for breast and testicular cancers.
"This cause is very important to our employees," said Matt Bentke, Bluebonnet's general manager. "Nearly everyone knows someone who has been affected by breast cancer, including several members of our Bluebonnet family. Our employees are proud of our annual effort to help raise awareness of the disease."
Among the many resources available to learn more about breast cancer are the National Cancer Institute's website at cancer.gov, the American Cancer Society at cancer.org, or the Susan G. Komen Foundation at komen.org.
Bluebonnet Electric Cooperative is one of the largest electric cooperatives in Texas and has been serving its members since 1939. Bluebonnet serves more than 121,000 meters and owns and maintains 12,000 miles of power lines, located across more than 3,800 square miles within 14 Central Texas counties. Bluebonnet's service area stretches from Travis County to Washington County, and from Milam County to Gonzales County. For more information about Bluebonnet Electric Cooperative, go to bluebonnet.coop and follow the co-op on Facebook and Twitter.
(Story courtesy Will Holford, Bluebonnet Communications)