BRENHAM CITY COUNCIL TO TAKE UP SECOND READING OF HISTORIC PRESERVATION ORDINANCE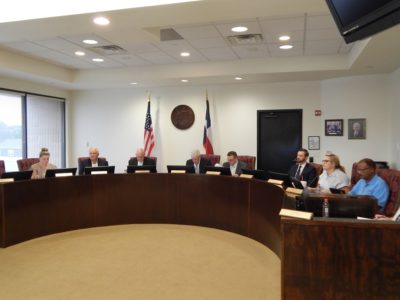 A second reading of the Historic Preservation Ordinance is on the agenda for the Brenham City Council at its meeting Thursday.
The council originally planned to complete the second reading of the ordinance, which will institute a city approval process for certain alterations to downtown building exteriors, at its August 5th meeting.  However, it had to be postponed due to a lack of councilmembers able to vote.
The second reading includes revisions that would allow downtown historic district property owners to vote on two of the property owner positions appointed by the council to the Historic Preservation Board.  It also clarifies that the guidelines and standards adopted by the ordinance for approval of a Certificate of Appropriateness shall not apply to building and structure interiors.  In addition, it adds a section requiring the ordinance to be reviewed within five years for recommended revisions.
Also on Thursday, the council will hold three work sessions to discuss the proposed 2021-22 Fiscal Year budget; receive an update on YellowTruck, the downtown Brenham retail incubator that plans to open this fall; and review the council's meeting dates in October.
The council will also hold a public hearing to discuss amending city code to allow car washes as a specific use in the B-1 zoning district, which is designated for local business and residential mixed use.  The item was approved by the Brenham Planning and Zoning Commission at its meeting August 9th.
Councilmembers will also consider:
Amending the rate tariff schedules for the city water, gas and electric systems.
Purchasing a drone for the Brenham Police Department using seized narcotic funds.
A resolution adopting a commercial tax phase-in agreement between the city and QuestSpecialty Corporation.
Accepting public improvements in the third phase of the Vintage Farms subdivision.
An interlocal agreement between the city and Washington County to advocate and promote tourism programs and services.
Amending city ordinance to remove any and all wording related to the Brenham-Washington County Hotel Occupancy Tax Board, due to the city and county entering into a new interlocal agreement for tourism and the collection/distribution of hotel occupancy taxes.
Approving the bylaws of the Tourism Advisory Board of the City of Brenham.
An ordinance granting a non-exclusive franchise to Container Source, LLC to operate a roll-off container service for residents, businesses and industries inside city limits.
An agreement with Franklin Legal Publishing for the republication, supplementation and online services for the city's code of ordinances.
The council will meet Thursday afternoon at 1 p.m. at Brenham City Hall.