BURTON HIGH SCHOOL STUDENTS RECOGNIZED FOR RECYCLING PROJECT

A recycling initiative started by six Burton High School students has earned them regional recognition.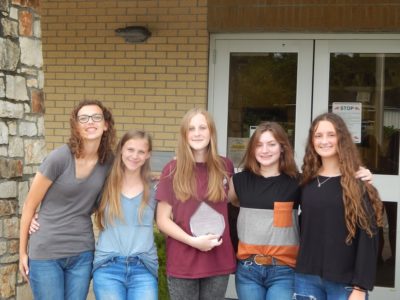 Samantha Angell, Avery Applewhite, Daisy Cleboski, Vivian Layman, Madison McCoy-Hood and Peyton Sigsbee received the Brazos Valley Council of Government's (BVCOG) Regional Solid Waste Management Award for Environmental Education and Outreach.  The students were recognized at Monday's Burton School Board meeting.
The students said the project began in the spring as a class assignment from their eighth grade science teacher, Vicki Bernet, concerning human impact on the environment.  The project involved educating students on the importance of recycling properly and encouraging students to recycle by offering options for them in schools.  The students plan to host a decorating contest to have elementary classrooms decorate cardboard boxes as their recycling bins.
Through the project, Brazos Valley Waste & Recycling (BVR) has provided a recycling bin for free to Burton ISD behind the baseball field.  The students said its first pickup will be on Friday.
The students received the award after competing with 1A-6A schools throughout BVCOG's seven-county region.
During regular session at Monday's meeting, the board approved a joint election agreement to partner with Washington County for the November 2nd election and appointed judges and clerks to work the election at the Burton Community Center and St. Peter's Lutheran Church.
Dr. Kennedy gave a brief update on COVID-19, saying as of Monday, the district had two to three staff, eight to ten elementary school students and eight to ten high school students out due to either testing positive for COVID-19 or being quarantined for close contact.  The district's COVID-19 dashboard said there were seven confirmed positive cases across Burton ISD as of Monday.  Dr. Kennedy said COVID-19 "hit us hard" at the beginning of the semester, but believes the district has leveled off now with cases.
Trustees also discussed Burton ISD's transfer policy.  Dr. Kennedy explained that the policy allows the district to accept or deny transfer students to help offset Chapter 49 payments to the state.  She said there are currently 119 transfer students in Burton ISD, and transfers are each estimated to draw in $11,300.  She said if the district did not accept transfer students, the district would need to send back an additional $1.3 million to the state, in addition to the roughly $1.5 million in recapture payments it is already sending back to the state this school year.  The board noted during its discussion that transfer fees would not be beneficial, as those fees would also be subject to recapture by the state.
The district plans to hold an informational session Wednesday, September 22nd at 6 p.m. to further discuss this fall's bond election.  The meeting will be held at the Burton High School auditorium.  Administrative staff will discuss the projects included in the $43.8 million bond proposal and take questions from the public.