BRENHAM CITY COUNCIL TO REVIEW CONTRACT OF CITY MANAGER

The contract of Brenham City Manager James Fisher will be up for discussion Thursday at the Brenham City Council's next meeting.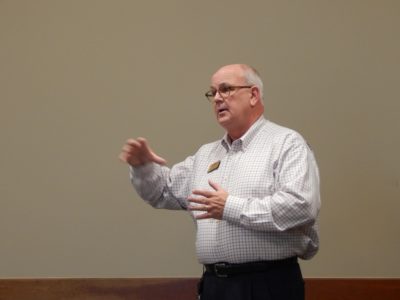 Councilmembers will first take up talks on Fisher's employment agreement with the city in executive session before acting upon it in open session.
The council last addressed Fisher's contract in October 2020, when it extended the agreement for one year through January 10, 2022.  The council also approved an increase to Fisher's annual salary from $162,464 to $166,000, up approximately 2.17 percent.
Fisher has served as Brenham's city manager since January 2018 after replacing Terry Roberts, who spent 17 years in the position before retiring.  Before coming to Brenham, Fisher was the city manager in Forney, Texas.
Also at Thursday's meeting, the council will seek to issue notice of its intent to issue Series 2021 certificates of obligation for no more than $10 million, including bond issuance costs.  The certificates of obligation for the 2021-22 Fiscal Year budget cover general government, wastewater and water system utility projects.
According to the agenda packet, the general government projects total $4.25 million and include $84,500 for fire apparatus, $350,000 for improvements to city hall, $744,000 for street equipment, $619,000 for in-house street reconstruction/rebuild and $1.7 million for contractor street and drainage improvements.
Wastewater utility improvements of $2.24 million include two new lift stations and sewer force main improvements.  The $3 million in water utility improvements are for the Lake Somerville intake structure.
City staff will handle securing the pricing for the certificates of obligation and bring the item back to the council for action on December 2nd.
The council will also consider:
Ordinances on their second reading adopting the budget for the new fiscal year and levying property taxes at $0.4940 per $100 valuation.
Issuing requests for proposals (RFPs) for professional administrative services and requests for qualifications for engineering, architectural, surveying or other services related to the American Rescue Plan Act of 2021.
Grant agreements for an airport master plan and airfield lighting project for the Brenham Municipal Airport.
A resolution accepting TxDOT's Selective Traffic Enforcement Program (STEP) comprehensive grant for traffic enforcement October 1st through September 30, 2022.
An amendment to the construction agreement between the city and Techline Construction, Inc. for the copper conductor replacement and power line rehabilitation project.
A revision of an interlocal agreement between the city and Washington County for the provision of subdivision regulations by the city within the extraterritorial jurisdiction (ETJ) of the municipality.
The council will meet Thursday afternoon at 1 p.m. at Brenham City Hall.