ARREST WARRANT ISSUED FOR SUSPECT IN BURTON SHOOTING, MORE DETAILS RELEASED

An arrest warrant has been issued for a Round Rock man in connection to a Sunday afternoon drive-by shooting at a Burton convenience store and an Amber Alert for a missing child.
36-year-old Joshua Christopher Crowley has been charged with Aggravated Assault with a Deadly Weapon after a random shooting at the Burton Short Stop in the 12000 block of FM 390 at 4 p.m.
According to Washington County Sheriff Otto Hanak, Crowley is believed to have fired multiple rounds from his moving vehicle at several people at the backside of the business.  Numerous rounds struck a 38-year-old male while also hitting locations throughout the business building.  Hanak said Crowley then left in his vehicle in an unknown direction, and has not been seen since.  The victim was airlifted to a Bryan hospital with serious injuries.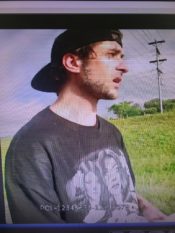 Investigators with the Sheriff's Office and Texas Rangers learned that earlier in the day, a Washington County patrol deputy had made contact with Crowley due to a motorist complaint on his vehicle on Highway 290.  Investigators also learned the suspect, along with his 4-year-old son, Wyatt Crowley, had parked the vehicle behind the shooting location where it was seen throughout the day, and they also discovered that his son was in the vehicle at the time of the shooting.
According to Hanak, there was no indication that the child would later be the focus of an Amber Alert when the deputy made contact with the suspect.  The alert was placed as a result of an Austin Police Department's missing person investigation, which was initiated by the mother of the child.  The Austin Police Department was made aware of the Burton shooting that listed Crowley as the suspect after the Sheriff's Office sent out a Be-on-the-Lookout for the suspect and vehicle shortly after the shooting.
Wyatt Crowley is white, has brown hair and brown eyes, is 3 feet tall and weighs 30 pounds.  He was last seen wearing a Spiderman sweatshirt.  Joshua Crowley is white with brown hair and green eyes, is 5'9" and weighs 140 pounds.  DPS says he was last seen wearing a red bandana on his neck and a black baggy t-shirt.  The vehicle is described as black, 2011 Mazda MZ3 sedan with Texas license plate 737763C.
Anyone who sees the suspect or vehicle is asked to call 911 immediately and to not approach, as the suspect is considered armed and dangerous.
Brenham Washington County Crime Stoppers is offering a $5,000 cash reward for information leading to Crowley's arrest.  Anonymous tips can be made by calling Crime Stoppers at 979-836-TIPS (8477).